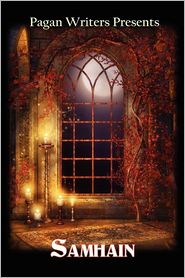 Edited by:
Camenæ deWelles
,
Angelique Mroczka
,
Rosa Sophia
Available at
Amazon
and
Barnes & Noble
(also in
paperback
)
Synopsis:
Samhain marks the end of summer and the preparation for winter. To many, Samhain is merely Halloween, but to Pagans, it is a day when the veil between the worlds is thinnest, and we can reconnect with our beloved deceased. Samhain is a joyful celebration where we invite the spirits of our loved ones into our homes to remember and honor them.

Pagan Writers Presents Samhain is a collection of articles, poetry, and short stories. Forty Pagan writers have come together to express how we celebrate the holiday, to share their thoughts and feelings, and to entertain with stories that take place on or around the last week of October.

Leave your broom by the door and join us at the hearth as we tell you about the Sabbat known as Samhain.

Pagan Writers Presents Samhain is the first anthology in the Pagan Writers Press Sabbat collection.

All proceeds from the sale of this anthology further the mission of the Pagan Writers Community, an organization that seeks to edu­cate, inspire, and pro­mote artists, authors, blog­gers, musi­cians, poets, and writers who follow alternative-faith spiritual and religious paths.
---
Well let me get the bad out the way first. There are some words cut off and the separations between pages isn't always the best. I don't think there was enough time taken for the editing process.
That being said, I still loved it. It's a collection of articles, rituals, poems and short stories. I know 3 of the contributors from Facebook. There's our beloved Mrs. B of
Confessions of a Soccer Mom
who writes out a great article on making your own runes using nothing more than Pumpkin seeds and a marker. I just bought pumpkins on sale yesterday, I think I'll have to try this one. Anyone want a set?
Angelique Mroczka of
The Balanced Witch
and
The Pagan Writers Community
leads us through a guided meditation appropriate for this season.
And Kallan Kennedy of
The Secret Life of the American Working Witch
who shares with us a Samhain Chant called "Homage to My Ancestors."
It's like a collection of blog entries all tied together. There is a lot of writing about ancestors and altars, and an altar for ancestors. There are recipes, family traditions, ancient traditions. And as I mentioned before, poems and stories that feed off all of that. Definitely an entertaining read, and only 109 pages, so it's fast as well.
All profit on this book goes into the coin purse of
The Pagan Writers Community
- which seeks to help, inspire and promote artists of alternative faiths. Considering I can only think of 2 publishers that work with pagan material, this is a needed program.