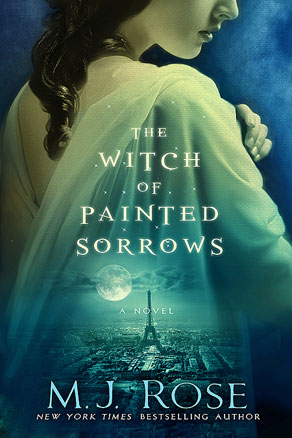 by
M.J. Rose
**Release date: March 17, 2015**
This book is mesmerizing. I can't believe how much I enjoyed my time in this world. Sandrine is a wonderful character. She is grieving for her father and running from her husband. With little choice she ends up with her grandmother, who happens to be a courtesan. France certainly has a history of that. But her grandmother refuses to discus family history with Sandrine. A lot of trouble may have been saved if she had.
Sandrine discovers Julien, an architect with a growing career. Then she discovers the artwork of an ancestor, the one who had the house built, La Lune. The two events become intertwined with Sandrine's dual obsessions with her own artistic path and her affair with Julien.
The descriptions of events paint such a picture! When Sandrine is lost in her painting, it makes you feel the energy and passion. Then you want to paint, as well. Then when she is lost in her love affair with Julien...let's just say it is very sensual.
I can't really fit this book into any one category. It's part historical fiction, part romance, part women's literature. A seriously good read full of art, culture and steamy romance.
New York socialite Sandrine Salome flees an abusive husband for her grandmother's Paris mansion, but what she finds there is even more menacing. The house, famous for its lavish art collection and elegant salons, is closed and under renovation. Her grandmother insists it's too dangerous to visit but Sandrine defies her — an unexplainable force is drawing her home.

There she meets Julien Duplessi, a mesmerizing architect, who introduces her to the City of Lights — its art world, forbidden occult underground, nightclubs — and to her own untapped desires.

From a mysterious fire at the Palais Garnier opera house, to a terrifying accident at the Eiffel tower and classes with Gustav Moreau at the École des Beaux-Arts, Sandrine's experiences awaken her passions. Among the bohemians and demi-monde, Sandrine uncovers her erotic nature as a lover and painter.

Then more ominous influences threaten — her husband is tracking her down and something insidious is taking hold, changing Sandrine, altering her. She's overcome by the spirit of La Lune, a witch, a legendary sixteenth-century courtesan, and an unsung artist in her own right, who exposes Sandrine to a darkness that could be a gift or a curse.

This is Sandrine's "wild night of the soul," her odyssey in the magnificent city of Paris, of art, love and witchery, and not until she resolves a tragic love story and family curse will she be free of the ghost's possession.

Effortlessly absorbing and richly imagined, with sumptuous detail and spellbinding suspense, The Witch of Painted Sorrows conjures the brilliance and intrigue of Belle Époque Paris and illuminates the fine line between explosive passion, and complete ruination.