Phoebe and her Unicorn in the Magic Storm
by: Dana Simpson
**I received a free digital copy from NetGalley in exchange for an honest review.**
My son and I discovered Phoebe and her Unicorn on Hoopla thanks to our library. He read all 5 copies about 3 times and then checked them all out again. He really liked them. So I jumped at the chance to review this. The only downside is we only get to keep this one for 55 days.
Anyway, it was as good as ever. Ivan and I like to read it together, where I get to read the unicorns and goblins and Ivan reads the rest. We made it halfway the first day, and then he finished the book without me.
I like how friendships are valued in these stories. And how different people, who may not even really like each other, can still work together and get along.
Ivan really likes all the different characters, and it always makes him laugh. He said this was a really good book, and it looks like it's a To Be Continued...so he's excited about that.
---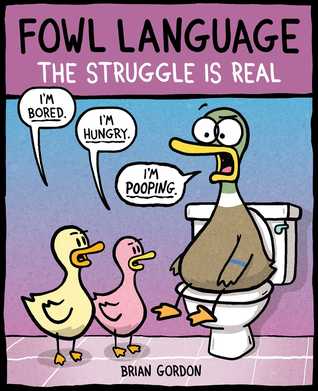 Fowl Language - The Struggle is Real
by: Brian Gordon
**I received a free digital copy from NetGalley in exchange for an honest review.**
The most honest look at parenting I've ever seen. Plus it's hilarious! The language is pretty adult, but my kids enjoy this as much as I do.
I especially like the comics where I can point out that is how they act. Kind of a fun way to say, "see how silly that is???"
There was a comic in here where a mom was saying her son won't eat meat anymore. I'm living that reality. All they could come up with is the kids must be messing with her. And I thought, "yup, that makes sense!"
I read this one night after putting my kids to bed, I had to keep choking back the laughter so I wouldn't wake them up. I think I sounded like an air mattress with a slow leak - lol.
You do not need to read the first book to read this one. It completely stands alone, most of them comics are stand alone. It's more of a collection, not a set story line. But I highly recommend this to anyone looking for a laugh.