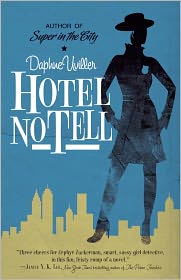 Amazon Paperback -
$9.98
Amazon Kindle -
$9.99
Barnes & Noble Paperback -
$12.50
Barnes & Noble Nook -
$9.99
The smart and sassy detective Zephyr Zuckerman is now armed and undercover in a Greenwich Village hotel where mysteries—from garbage-grabbing guests to the reservation system—lurk around every corner.

Now working as a junior detective with the New York City Special Investigations Commission, Zephyr's gone incognito as a concierge to find out who laundered a hundred grand off the hotel books—and why. But the discovery of a prone, flush-faced guest gasping for air in room 502 only hints at the sinister goings-on inside this funky establishment. While the rapid response of the fire department leads to a sweaty date with a smooth-talking, rock-climbing rescue worker, Zephyr finds herself even more hot and bothered by an attempted murder on her watch. Could the smart-mouthed Japanese yenta across the hall know more than she's telling? How are cryptic phone calls from a mysterious corporation linked to the victim in 502?

Under pressure and overwhelmed, Zephyr soon finds that a concierge cover is no protection in a place where crime, like the city itself, never sleeps.
From the Trade Paperback edition.
---
This book is a fun mystery! I love the character Zephyr, she has amazing friends and family but her love life is a mess. Well a mess of her own creation, as the guy in question is also wonderful. So she attracts great people, but her life is still far from perfect. She has taken until her 30s to finally settle on a career and even in that she has doubts to her ability.
The story has a fast flow, with all the twists and turns a good mystery needs to have. And you won't know the deal until the very end. That's all I'm saying, Daphne Uviller, the writer, hides the outcome so very well. It was funny too, she liked being a concierge and actually considers it as a fall back, or wonders if she had just started on that from high school. lol
It is a fairly short book so it's perfect for the upcoming travel season. My copy was 275 pages, long enough to be a novel, but no so long the story falls apart. Personally I think it was just right, it was never boring or slow.
I see this is the 2nd Zephyr Zuckerman novel, so I will have to find the 1st one. Zepha is my new favorite heroine...right up there with Stephanie Plum.