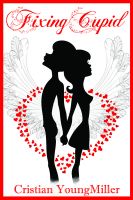 by: Cristian YoungMiller
Available as an ebook from
Amazon
,
Barnes & Noble
and
Smashwords
.
Ben Bonner is an uptight, conservative lawyer who has everything except for love. After one heart break too many, his best friend Carey arranges for him to move in with a magical character named Jack. Urban legend has it that whoever lives with Jack will immediately find their soul mate and live happily ever after.
---
The cover is simple and colorful, that with the title does catch your attention. It's not a very long story, just over 120 pages.
The story itself was great. The pace was pretty fast, so you were never bored. I laughed my a** off when Ben was watching the lioness get the crap kicked out of her and the line was something like "The first rule of Gazelle fight club, is there is no Gazelle fight club." Making the idea that the animals are all bored and the Gazelles and Zebras all chase down the lionesses for fun.
Ben's very waspish girlfriend dumps him for a massive black man, and when his best friend's husband finds out he was the previous fiance that relationship gets strained. But not severed, I'll give Carey credit for that. Ben and Chip even become...well closer...I still think friends would be stretching the truth. lol
Yes Ben falls in love, but the point of the story is that Ben breaks cupid. Cupid has be be carefree, childish, happy. Ben snaps him out of it, and Cupid gets caught up in saving the environment - no one will ever fall in love again. Great job, Ben! So Ben and his love, Anna work together to fix Cupid.
So I did enjoy the story. Now I have to get mean here for just a minute. The spelling mistakes are plenty, there are also tons of misused words. In the beginning of the story he mixes up Sherry (the ex) and Carey, and toward the end he uses the "defense" when it obviously calls for "prosecution." I don't want to get really mean, but I would recommend the author give his book out to some friends with red pens and ask them to go to town on it. I had to knock a star off for this...it was just too much.
Should you buy this story? Well it's $2.99, so it's not real expensive. It's a quick read, and it is funny and entertaining. Cristian does have a way with words, and is a talented storyteller. Even with the downside of grammar, I couldn't wait to start his other story I have. Look for that review soon, too!