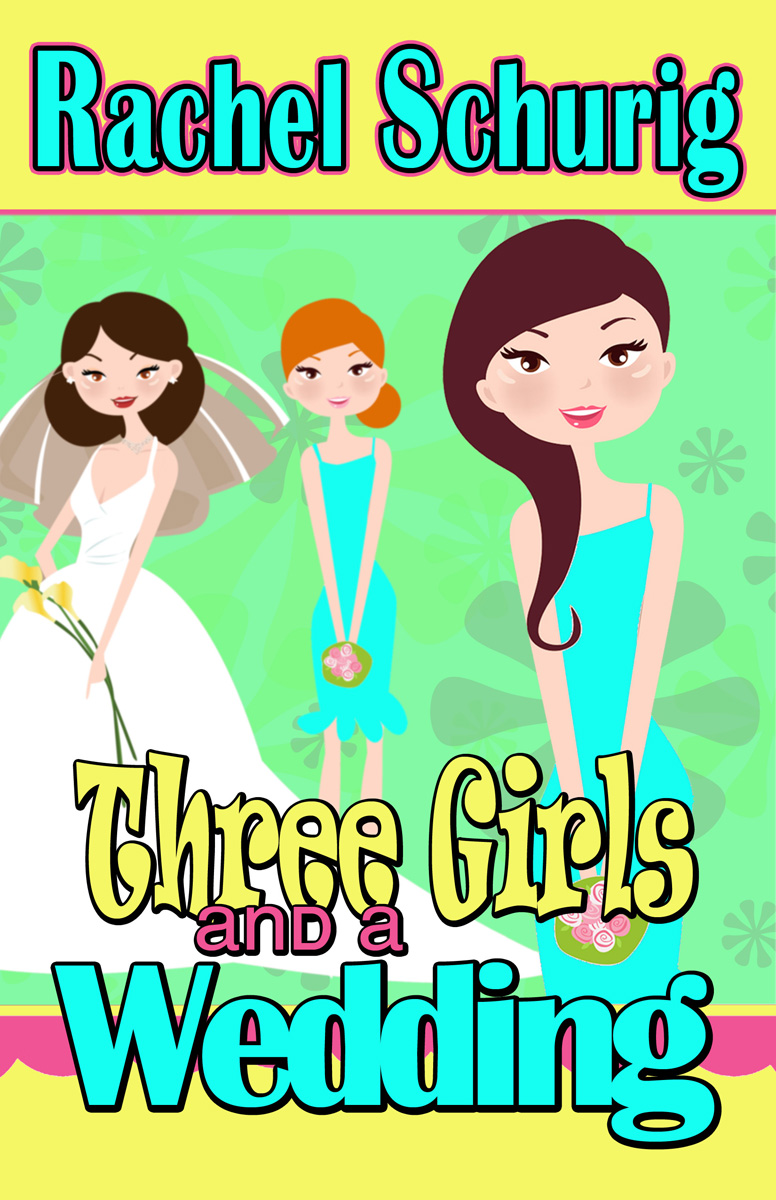 by:
Rachel Schurig
Available at
Amazon
,
Barnes & Noble
, and
Smashwords
.
Synopsis:
Jen Campbell loves weddings. In fact, she loves them so much that she became an event planner in the hopes that she would one day get the chance to help women create the fairy tale day of their dreams...Unfortunately, the only thing Jen has been allowed to plan so far are boring restaurant openings and children's birthday parties.

When Jen's big break finally comes, she realizes that wedding planning is a heck of a lot more complicated than picking out the perfect flowers and cake.

Add to the chaos a pair of fighting friends, a totally pressuring mother, and a ridiculously gorgeous (but moody) best man, and Jen has her work cut out for her.

In Three Girls and a Wedding, Jen Campbell will try to plan the perfect wedding and maybe—just maybe—create her very own happily-ever-after.
---
This is the story that continues the lives of Ginny, Annie and Jen. 3 girls...now women...who have been best friends since High School. After college they rented a small house in Ferndale. The first book, Three Girls and a Baby, was centered around Ginny who had broken up with her long-time boyfriend and found out she was pregnant. This one is from Jen's view. Jen is a very organized event planner. She just received the opportunity of a lifetime, plan the wedding (and all the events relating to it) for Kiki Barker, daughter of a rich real estate investor, David Barker. At the same time her best friend Ginny gets engaged. Can Jen plan both without losing her mind?
Jen's boss takes away all of her current projects and tells her she will be assisting newly-promoted partner Jason Richardson. While excited by the opportunity, she is less than thrilled at the prospect of working with smarmy Jason. Jen is determined to make this a success, knowing if she does everything right she will get a promotion and be allowed to work on the events she
wants
to work on. Jason leaves her with almost all the work, and the next 5 months are spent in a haze of overwork and sleeplessness. Ginny's wedding is barely on her radar.
There are also 2 love interests. When the first one was introduced, Matt - the best man and groom's brother, I thought I knew exactly what would happen. But then she kept getting mixed signals and started dating Jason, reluctantly of course. I didn't know what was happening until the very end. It wasn't predictable at all!
Rachel Schurig uses a light, conversational tone throughout the story. For example, I kept seeing the word "gonna." At first it bothered me, very poor grammar and all. But then I realized if I were talking that's what I would say. Does anyone actually say "going to" anymore?
The title is long, but catchy. The first book was Three Girls and a Baby, about Ginny. This book is Three Girls and a Wedding, about Jen. The third book will be titled Three Girls and a Leading Man, about Annie. The cover art is so cute, and it fits in with the first book. Rachel is making it obvious that these three books are connected. It doesn't always work, but in this case it is both necessary and fun.
The story was a very fast read, even at 198 pages. I started reading Sunday afternoon and finished it Monday morning. I couldn't put it down. The story doesn't slow down for a minute, but it's not too fast either. It does, however shift pace. When tensions are high, the story moves faster. When Jen hits the wall and slows down, so does the story. It forces your own feelings to play along.
These stories are set in Metro Detroit, so I actually recognize a lot of the places mentioned in the book. Like the RenCen, which is the Renaissance Center in Detroit. It's a beautiful and large building right in the city.
I was so excited to read this story. As soon as I heard it was out, I wrote the author begging for a copy. I couldn't wait to read it and after the first book I knew I would love it. It did not disappoint. Rachel is a great author and this is a great piece of chick lit.
And now, sadly I must wait for that third book. I swear, I want to volunteer to be a beta reader just so I can read it sooner.