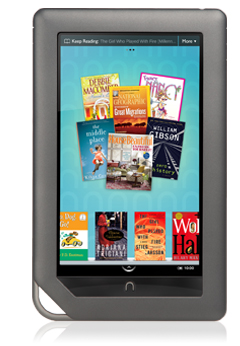 With the refund money was allowed to pick up a Nook Color. I had a choice between Kindle and Nook and of course the other ereaders out there. It was a tough decision but honestly, the Nook Color acts like a cheap Ipad. And that's enough for me. I can also check out e-books from my
library
.
Every Friday Nook gives away a e-book for free. Plus there are tons of 99 cent deals. And if I find an epub formatted book somewhere else, with just a little finagling with Adobe Digital Editions, I can move it to my Nook without it throwing a fit, as kindle would do.
So now I've had the Nook Color for a week, what do I think? I love it. It is a small computer screen so I can read it when I'm sitting with the boys at night without needing an extra light. I can get on the internet - to a limited extent but I can do facebook and shop for books and check my e-mail if I wanted to. I can watch some youtube videos, although the video quality leaves much to be desired.
As an e-reader, I love it. I can organize my books on shelves. There are books for my kids, some of which need work but overall it's fun. And best of all, I can get free books from the library...oh did I already say that? Ok, well what I like is that I'm not a slave to purchasing e-books. I have some wiggle room that Kindle doesn't allow, and it's from an established company. That gives some peace of mind.
I haven't had any issues with it yet, I downloaded a software upgrade already. And while the android platform it runs on is locked, I've heard rumors online that they plan to unlock it to the apps that are out there. I'm not terribly worried about it. Mostly I use it to read books. I love turning on the Pandora app, hooking up my headphones, loading a book and hopping on the Elliptical without having to fight with pages and holding the book open - that alone makes it worth it.